Wuhan BBT Mini-Invasive Medical Attracts The Attention Of Sinopharm Group Venture Capital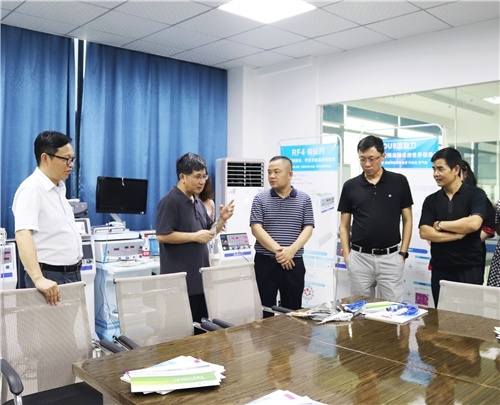 On the afternoon of July 31, 2018, SINOPHARM Group Venture Capital Finance Director and relevant leaders visited Wuhan BBT Medical Tech.Co., LTD (Hereinafter referred to as BBT Medical). to learn more about the strategic layout of the BBT series of high-tech products, and believed in the long-term development of BBT Medical.
According to Qiu Xuewen, chairman of Wuhan BBT Medical, after more than 10 years of exploration, a cooperation mechanism of production, learning and research has been established, integrating advanced electronics, computers, remote consultations, medical biomaterials, imaging and other high-tech. Strive to create minimally invasive treatment products, independently develop and produce BBT U&R scalpel, TissueCut radio frequency ultrasonic scalpel, self-curing scalpel treatment system, sharp scalpel treatment system, BBT ultrasonic imaging diagnostic instrument, cyst suction system, etc. New medical products lead the trend of minimally invasive interventional technology. Many inventions have independent intellectual property rights. Ultrasonic radio frequency combined with minimally invasive medical technology is at the world's leading level.
SINOPHARM Group's venture capital financial director and relevant leaders fully affirmed Wuhan BBT's determination in the field of minimally invasive medical treatment. At the same time, it is hoped that a unicorn high-tech company like BBT can make comprehensive use of social funds, operate rationally, and achieve rapid fission. Develop and achieve more impressive performance.
Related Ultrasonic Surgical System Products